The Spring 2022 Muncie YART
When
Thursday, June 2, 2022
5pm to 8pm
Where
Canan Commons
500 S. Walnut St
What
Art volunteering, fundraising, exhibitions, art festivals, cultural festivals, writing, drawing, comics, pen and ink, pencil drawing, charcoal drawing, chalk drawing, pastels drawing, marker drawing, calligraphy, painting, acrylic painting, enamel paint, oil painting, watercolor, gouache, printmaking, woodcut, line engraving, lithography, screenprinting, etching (printmaking), photography, nature photography, computer art, webcomics, 3d digital art, design, ceramics and glass, ceramics, glasswork, glass blowing, stained glass, pottery, sculpture, textile crafts, macramé, weaving, knitting, quilting, crochet, embroidery, patchwork, needlepoint, tie-dye, flower crafts, leatherwork, mixed media, paper crafts, decoupage, origami, papercraft, papier-mâché, woodworking, wood burning, wood carving, stone crafts, stone carving, metalworking, chain mail, blacksmith, pewter, metal casting, metal etching, jewelry, beadmaking, macramé jewelry, downtown, environmentalism, mosaic, team building, body art, tapestries, sketching, collage, first thursday, recycling, gardening, caricature, intaglio sculpture, macro photography, outdoor events, polymer clay, arts walk, yart, aerosol, outreach, shopping, empowerment, relief sculpture, linocut printing, family events, egg tempera, taxidermy, landscape painting, encaustic painting, intaglio printmaking, found object, dwntwn, digital arts, figure drawing, fashion, neighborhood, airbrush, showcase, spring, art education, coffee & paints, flower pot, garden crafts, scrapbooking, glass painting, sale, canvas, yarn, coloring, volunteer clean-up, parks, dolls, furniture, assemblage, masks, growers and makers, engraving, leadership, nightlife, crafts, art trading cards, community development, happenings, illustration, educational demonstrations, local merchandise, cosplay, public art, community enhancement projects, crayon, costuming, school of art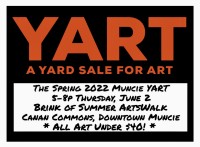 Muncie, Indiana – YART is Coming!
YART is a Yard Sale for Art! YART began in Muncie, Indiana with students at Ball State University and continues here and in several U.S. cities - a Muncie original! The Muncie YART is now held Downtown, at Canan Commons, twice a year, Spring and Fall, and coincides with ArtsWalk. The Spring 2022 Muncie YART is scheduled for the evening of Thursday, June 2nd!
This community art sale, with a goal of making art affordable and accessible to everyone, brings together Artists and Art patrons in a casual and unique setting. The Spring 2022 Muncie YART will be held in conjunction with the 2022 Brink of Summer ArtsWalk on Thursday, June 2nd, from 5-8p. You can find YART and LIVE music performances at Canan Commons, Muncie's great urban greenspace park and amphitheater by the roundabout on South Walnut Street in Downtown Muncie, Indiana.
All forms of Art are welcome at YART! Art of all kinds, by all kinds of Artists! YART encourages pandemic-safe interaction between Artists and the community, hoping to make Art more accessible, especially to those who think they cannot afford to buy Art for themselves and their homes. To this goal, all YART Art will be priced below $40! YART works to enable local creative entrepreneurs and to improve the Muncie economy. Shop local, support independents, enjoy your town!
The last YART featured over 100 Artists! Each YART Artist will be present throughout YART to meet the public, discuss their Art, handle sales personally, and some Artists will be making Art LIVE at YART! This is a great opportunity to enjoy your family interacting with local culture in a dynamic, lively, and relaxed atmosphere.
The Spring 2022 Muncie YART will feature a wide variety of handmade jewelry, photography, clothing, oil/acrylic/watercolor paintings, fused glass, ceramics, knits, pottery, candles, toys, drawings, sculpture, lampwork glass, stuffed animals, digital art, mosaics, LIVE ART and LIVE MUSIC, and so much more!
Outdoor fun for all ages - YART and ArtsWalk are for the whole family!
Miss Moth (YART Director) and the YART Artists very much thank Cheryl Crowder of the Muncie Downtown Development Partnership and the City of Muncie for their generous support! YART is an all-volunteer, zero-budget, community event. THANK YOU!
LIKE Muncie YART on FaceBook: