The Muncie Food Hub Partnership: Helping Create a Sustainable Food System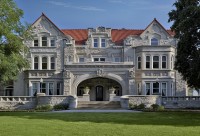 Presenter: Dr. Joshua Gruver, associate professor of environment, geology, and natural resources, Ball State University; and director, Muncie Food Hub Partnership

Diminishing food resources and unsustainable food production practices are looming global crises despite technology increasing production on arable land. Climate change and drought in California will severely limit the fruits, vegetables, and nuts available nationwide. Although Indiana is an agricultural state, nearly 90% of food consumed here is grown elsewhere. States and regions increasingly will need to diversify food production and supply mechanisms to replace this loss.
The Muncie Food Hub Partnership (MFHP) seeks to nourish and strengthen our community through the robust exchange of fresh and affordable local food. MFHP manifests that investment in East Central Indiana food production through business development, education, and civic engagement. You'll learn about some of the things MFHP is doing to help create a sustainable regional food system.