Final Friday at DOMA
When
Friday, September 27, 2019
6:00pm to 9:00pm
Where
David Owsley Museum of Art
2021 W. Riverside Avenue
What
Art - audience participation, ball state university, dj jannell, exhibitions, food, museums, nightlife, open house, speakers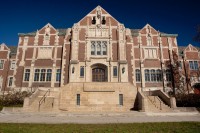 FINAL FRIDAY: NEW
Local emcees introduce PechaKucha* talks to Muncie to highlight what is unique, unexpected, and inspiring in our city.
Enjoy music by DJ Jannell, refreshments & cash bar, art, and a look at the special exhibition Recent Acquisitions: Connecting to the Past, Committing to the Future.
Check the Facebook event for details as activities and presenters are added to the lineup!
*PechaKucha, Japanese for "chit chat," is a concise presentation format where 20 images are timed to automatically advance every 20 seconds as a presenter talks along. Each presentation lasts only 6 minutes, 40 seconds. This is an informal and fun gathering where creative people get together and share their ideas, works, thoughts, snaps—just about anything, really—in the PechaKucha format.