The Surveillance State: Big Data, Freedom, and You - Parts 1 & 2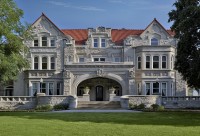 A police officer places a GPS device on a suspected drug dealer's car to trace his whereabouts and build a case against him. A popular retail store uses predictive analytics to send pregnancy-related advertising to a teenager who has yet to tell her parents about her condition. A Kentucky man shoots down a neighbor's drone that is flying over his private property. The news is full of stories like these, in which new technologies lead to dilemmas that could not have been imagined just a few decades ago. The 21st century has seen remarkable technological advances, with many wonderful benefits. But with these advances come new questions about privacy, security, civil liberties, and more.
Each class includes two 30-minute lectures.
You may sign up for the entire series in each part and attend only the sessions you want.
Part 1
Six Tuesdays, July 2 - August 6
10-11:15 a.m.
July 2: Security, Liberty, or Neither?; and The Charlie Hebdo Tragedy
July 9: East Germany's Stasi State; and Surveillance in America
July 16: Failing to Connect the Dots on 9/11; and The U.S. Spy Network in Action
July 23: Big Data's Shadow; and Some Problems with Privacy
July 30: Under Observation: The Panopticon Effect; and Drones, Drones Everywhere
August 6: Biometrics: Eyes, Fingers, Everything; and Hacking, Espionage, and Surveillance
Part 2
Six Tuesdays, October 22 - November 26
10-11:15 a.m.
You may attend Part 2 without having attended Part 1.

Oct. 22: Local Police on the Cyber Beat; and Geolocation: Tracking You and Your Data
Oct. 29: Internet Surveillance; and Metadata: Legal or Not
Nov. 5: Technology Outruns the Law; and Your Personal Data Is the Product
Nov. 12: The Internet of Things; and Anonymity: Going off the Grid
Nov. 19 Code Breaking versus Code Making; and Europe's Right to Be Forgotten
Nov. 26: National Security and the First Amendment; and The Privacy Debate Needs You