Medical School For Everyone: Emergency Medicine-Part 1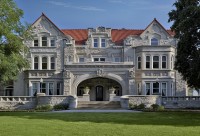 This DVD series, produced by The Great Courses, gives you the chance to experience first-hand the drama, scientific detective work, and medical insights in an everyday emergency department. Presented by board-certified physician and educator Dr. Roy Benaroch of Emory University's School of Medicine, the lectures are a introduction to emergency medicine and the emergency department educational experiences of medical students around the world.

The sessions allow you to "shadow" Dr. Benaroch on his shifts, and sometimes even venture off-site, you'll encounter patients coming in with a variety of symptoms and complaints—some of which are easily diagnosed and treated, and some of which are more life-threatening than they first appear. By the end of this program, you'll have a stronger knowledge of, and greater respect for, emergency medicine and the brave doctors who practice it.
Sessions
1st and 3rd Tuesday
August 6-Oct. 15
5-6:30 p.m.
Topics Covered (two, 30-minute lectures per class):
Aug. 6: Triage in Emergency Medicine; and Emergency Medicine Means Thinking Fast
Aug. 20:Emergency Medicine Means Thinking Again; and The Story Is the Diagnosis
Sept. 3: Hidden Clues in the Emergency Department;and Treat the Patient, Treat the Family
Sept. 17: Chest Pain; and Treat the Cause, Not the Symptom
Oct. 1: Who Needs the Emergency Department?; and Altered Mental Status
Oct. 15: Simple Symptoms, Serious Illness; and In an Emergency, Protect Yourself First