Dancing With a Brush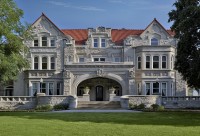 Instructor: Mrs. Ann Johnson, local artist and former owner of F.B. Fogg
Ann Johnson will repeat the wonderful workshop she taught in Arizona this past summer in three afternoons. She'll cover techniques that every painter should know, including tips and tricks for making a beautiful watercolor masterpiece from start to finish. Her professional experience enables her to teach novices as well as advanced painters in the same setting. You'll learn something new, no matter your skill level. A suggested supply list will be provided upon enrollment.
Oct. 3: A Sunset landscape. Will focus on paper, brushes, washes and skies.
Oct. 10: Loosey Goosey. How to loosen up your brush strokes while painting trees, plants, and fruit.
Oct. 17: Waterscapes. Will discuss control, edges, shaddows, and carrot people.