Shop Small
When
Saturday, January 26, 2019
10:00pm to 7:00pm
Where
The Muncie Mall
(Former Carson's)
3501 North Granville Avenue
What
General Events - ceramics and glass, christmas, conference, cookies, crafts, crochet, cupcakes, dolls, drawing, exhibitions, family events, farmers market, fashion, fresh food, furniture, garden crafts, grand opening, jewelry, knitting, macramé, metalworking, muncie makers market, painting, paper crafts, photography, santa, textile crafts, thanksgiving, winter, woodworking
Series
Shop Small @ The Mall!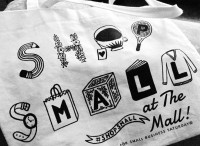 Shop Small @ The Mall! The Muncie Makers Market has been invited to be a part of Trader's Village Vendor EXPO at The Muncie Mall, beginning the weekend of November 24th, Small Business Saturday!
Come see us for TWO DAYS of holiday shopping right inside the parking lot doors - Saturday, November 24th from 10a-7p & Sunday, November 25th from 11a-5p!
Support independent entrepreneurs! SHOP SMALL and SHOP LOCAL! Watch here for more exciting details and when you can come see SANTA CLAUS!
#SmallBusinessSaturday
#MuncieMakersMarket
#ShopSmall
(This is in the former Carson's.)
Free Admission
4th Saturdays 10a-7p
4th Sundays 11a-5p
Former Carson's in the Muncie Mall
November 24 & 25
December 22 & 23
January 26 & 27
February 23 & 24
March 30 & 32
April 27 & 28