Vlog Ventures: A Family Summer Camp For Aspiring Youtubers
When
Monday, June 19, 2023
5:30pm to 7:30pm
Where
Madjax Maker Force
Design Lab/Classroom
515 E Main St, Muncie, IN 47305
What
Film acting, computer art, animation, documentary, photography, classes, children's events, downtown, family events, art education, growers and makers, school projects, crafts, projects, discussion, madjax, experimental film, educational demonstrations, technology, training, recording
Cost
$20 due at registration
Ages
3rd–6th graders WITH AN ADULT
Series
Vlog Ventures: A Family Summer Camp For Aspiring Youtubers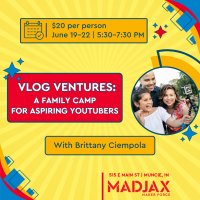 Our four-day camp is designed for elementary aged students and their families to learn the ins and outs of creating YouTube content together. Led by professional teachers, you'll learn about video production, internet awareness, and career exploration in media fields.
Scholarships are available to any individuals or families with a demonstrated need. Email Kyra Zylstra, Director of Initiatives and Partnerships, at kyra@madjax.org.
We have gift certificates available! Give the gift of a fun learning experience at Madjax to a friend or loved one. Click here to purchase a gift certificate.