2022 Holiday Gift Market with the Muncie Makers Market at Light Up DWNTWN!
When
Thursday, December 1, 2022
5pm
Where
Open Door Administration Building
Atrium - Corner of Walnut & Adams - Big Glass Building
220 South Walnut Street
What
General Events festivals, art festivals, drawing, comics, pen and ink, painting, printmaking, photography, ceramics and glass, ceramics, stained glass, pottery, textile crafts, knitting, quilting, crochet, embroidery, needlepoint, flower crafts, paper crafts, papercraft, woodworking, jewelry, downtown, christmas, first thursday, food and drink, yart, shopping, dwntwn, girls night out, fashion, showcase, greenhouse, winter, open house, garden crafts, card making, edible art, cupcakes, cookies, sale, muncie makers market, farmers market, growers and makers, fresh food, nightlife, crafts, art trading cards, community development, collectibles, happenings, local merchandise, entrepreneurship, business, gifts, vendors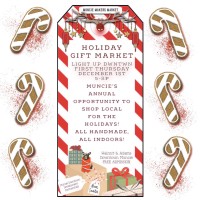 It's time, Muncie! 🎁 The 2022 HOLIDAY GIFT MARKET, presented by the Muncie Makers Market, is kicking off the Winter shopping season and we invite you to celebrate with us! The next BIG event for the Muncie Makers Market is the Holiday Gift Market coming up SOON on December 1st, during December's First Thursday, from 5-8p. There will be fun events all over Downtown Muncie that evening which are sponsored by the Muncie Downtown Development Partnership, and we are excited to be at the heart of it all! Every December's First Thursday is branded as Light Up DWNTWN and we intend to show up BRIGHT and MERRY!
The Holiday Gift Market showcases local business and will feature a HUGE set-up with over FIFTY Vendors, all with handmade creations, homemade goodies, locally grown plants, and SO MUCH MORE! We'll even have Gift Wrapping available from the Community of Hope fundraiser! Join your community at Light Up DWNTWN for a really fun evening of shopping in a fabulous environment - there is a three floor atrium above our heads and plenty of FREE parking right up to the door! We encourage folks to #ShopLocal on First Thursday, December 1, 2022 from 5-8p INDOORS with the wonderful local Growers and Makers of the Muncie Makers Market at Light Up DWNTWN in Downtown Muncie at our Holiday Gift Market! DO NOT MISS THIS! 🎁
We will be celebrating the kick off of the season with a great night of shopping and entertainment in our wonderful host venue, the Open Door Health Services administration building at 220 South Walnut Street. This is the big glass building on the corner of Walnut and Adams in Downtown Muncie, formerly the Chase Bank building. Very easy to find! 🎁
All Vendors must register in advance.