Glass Workshop: Micro Mosaic Jewelry
When
Thursday, August 11, 2022
6pm to 9pm
Where
Minnetrista Museum & Gardens
1200 N. Minnetrista Pkwy. IN 47303
What
Art workshops, ceramics and glass, sculpture, jewelry, empowerment, museums, adult oriented, women, art education, crafting workshops, couples, growers and makers, crafts, projects, mosaic, glasswork
Ages
$45; member discounts apply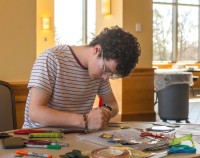 Cost: $45; member discounts apply
Registration deadline: August 7

Explore the world of micro mosaics! Create a unique pendant using the Italian tradition of intricate imagery in glass. This workshop will delve into mosaic glasswork- using tiny glass pieces to create a beautifully unique mosaic pendant design. Attendees will learn about the process of micro mosaic- different approaches and a variety of imagery techniques.
All tools, supplies, and safety gear will be provided. Glass Workshops are 13 & up unless otherwise noted.