Art in Bloom
When
Saturday, May 14, 2022
12pm to 5pm
Where
David Owsley Museum of Art, Ball State University
2021 W. Riverside Ave., Ball State University
What
Art ball state university, paper crafts, exhibitions, tour, flowers, family events, garden crafts, museums, open house
Series
Art in Bloom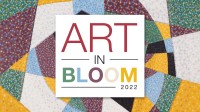 Join the David Owsley Museum of Art on May 14 and 15 for Art in Bloom, an annual celebration featuring floral creations by regional designers inspired by works of art in the galleries. In addition to the innovative arrangements, visitors can also enjoy extended museum hours of noon to 5pm on both days with live demonstrations, docent-led tours, music, and activities for all ages. There is no admission fee for this event, and weekend parking on the Quad Circle is also free.
Help us spread the word about this community event by sharing or marking your attendance on the Facebook event, and bring your friends and family! The Facebook event will be updated with a detailed schedule of activities closer to the weekend.
The weekend also marks one of the final opportunities to see the special exhibition Body Language: The Art of Larry Day before it closes on May 21.
Visit bsu.edu/doma for more information, and contact Rachel Buckmaster with any questions.