Bracketing the Whig Tradition: When Burke and Paine Agreed on the American Cause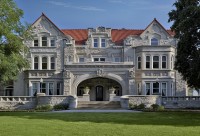 Presenter: Dr. Hans Eicholz, senior fellow, Liberty Fund

A discussion of the relationship between two important thinkers whose books shaped the American experience.

Relevant books on exhibit at the E.B. and Bertha C. Ball Center:
Reflections on the Revolution in France, and on the Proceedings in Certain Societies in London Relative to that Event. In a Letter Intended to Have Been Sent to a Gentleman in Paris, Edmund Burke, 1790, 1st edition.
Rights of Man: Being an Answer to Mr. Burke's Attack on the French Revolution, Thomas Paine, 1791, 1st edition.
Odes to Mr. Paine, Author of "Rights of Man," John Wolcot (pen name Peter Pindar), 1791, 1st edition.