Marhoefer: A Link to Muncie's Past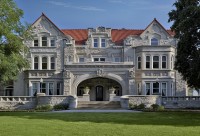 Presenter: Mr. Ted Shideler, volunteer, Delaware County Historical Society.

It's been more than forty years since Marhoefer Packing Company ceased its Muncie operation, leaving behind a 45-acre site on North Elm Street. Mr. Shideler will chart the company's course from its humble roots as the Kuhner Packing Company through its expansion to one of the twelve largest meat packing companies in the nation and beyond.