18 Tiny Deaths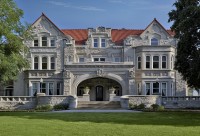 Presenter: Mr. Bruce Goldfarb, author of "18 Tiny Deaths: The Untold Story of Frances Glessner Lee and the Invention of Modern Forensics"

Mr. Goldfarb will outline a story of a woman whose ambition and accomplishments far exceeded the expectations of her time. His recent book follows the transformation of a young, wealthy socialite into the mother of modern forensics.

Frances Glessner Lee was best known for creating the "Nutshell Studies of Unexplained Death," a series of dollhouses that appear charming―until you notice the macabre little details: an overturned chair, or a blood-spattered comforter. And then, of course, there are the bodies―splayed out on the floor, draped over chairs―clothed in garments that Lee lovingly knit with sewing pins. Lee developed a system that used the Nutshells dioramas to train law enforcement officers to investigate violent crimes, and her methods are still used today.