The Neighborhood in the Heart of Campus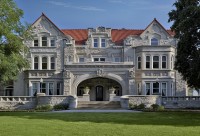 In 1945-46, Ball State University's first mobile home court was constructed on the corner of Tillotson and Gilbert, along with three barracks-style buildings which the college converted into two-bedroom and one-bedroom apartments. These units were part of Ball State's first accommodations for married students.

In addition to providing housing for married students, these apartments also provided housing for some faculty members and their families. The duo will share information and photographs for this gone-but-not-forgotten housing.