Daughters of the American Revolution and Other Historical Markers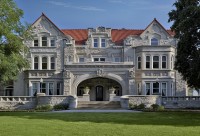 Norma will provide information about Daughters of the American Revolution (DAR) historical markers in Delaware County as well as other marker programs.

After her retirement from the Muncie Public Library, she has volunteered for the Delaware County Historical Society in various capacities, including editing a journal and a newsletter. She was also the main author of Delaware County, published in 2012, as part of Arcadia Publishing's "Images of America" series.