Belles, Baubles, and Bygones: Remarkable Women in Indiana History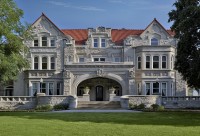 The program highlights some amazing stories about Indiana women like Catharine Coffin, suffragist May Wright Sewall, actress Carole Lombard, Portland native Twyla Tharp, and Frances Slocum. Presentation will also include information about lesser known women like fashion publicist Eleanor Lambert, aviator Marvel Crosson, and educator Gertrude Mahorney.

You'll also find out how Susan B. Anthony, Sojourner Truth, and Olympic champion Wilma Rudolph fit into Indiana's history.