The Muncie Makers Market at First Thursday
When
Thursday, December 5, 2019
5:00pm to 8:00pm
Where
Corner of Walnut & Adams Streets
In front of Toys Forever & the Muncie Map Co.
What
Art - acrylic painting, aerosol, art festivals, art trading cards, beadmaking, card making, ceramics and glass, cookies, crafts, crochet, cupcakes, downtown, drawing, dwntwn, embroidery, face painting, farmers market, flower crafts, food, fresh food, garden crafts, greeting cards, jewelry, knitting, landscape painting, macramé, macramé jewelry, muncie makers market, nature photography, outdoor events, painting, paper crafts, photography, portrait painting, printmaking, quilting, shopping, tapestries, tie-dye, watercolor, woodworking
Series
The Muncie Makers Market at First Thursday!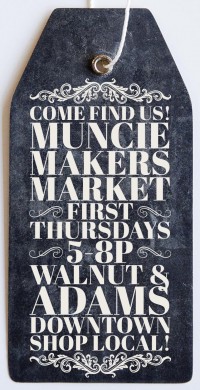 You can find the Muncie Makers Market on First Thursdays from 5-8p on the corner of Walnut and Adams Streets in Downtown Muncie! Fresh homemade food, locally grown fruit and vegetables, fresh and dried herbs, live plants, beautiful art, and handmade crafts of all kinds at the Muncie Makers Market!
Shop LOCAL and watch for our markets year-round throughout Muncie! Please JOIN us on Facebook and Instagram, and please SHARE this post: