Public Lecture on "Gorey's Worlds"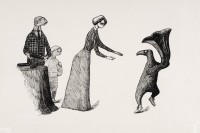 Join Erin Monroe, the Robert H. Schutz, Jr., Associate Curator of American Paintings and Sculpture at the Wadsworth Atheneum Museum of Art, for a richly illustrated talk about the artist Edward Gorey and DOMA's special exhibition, "Gorey's Worlds."
A 5 p.m. reception precedes the 6 p.m. talk, and the exhibition will remain open until 8 p.m. for those who wish to enjoy an informed viewing following the lecture.
Event is free and open to the public. See bsu.edu/doma/exhibitions for more information on the exhibition and other related programs.
Unless otherwise noted, the works of Edward Gorey in this exhibition have been provided by the Edward Gorey Charitable Trust.