Kegs! Casts! and Kraut!
When
Saturday, July 14, 2018
2:00pm to 6:00pm
Where
Madjax
On patio outside of Guardian Brewery
514 E Jackson St, Muncie, IN 47305
What
Art - adult oriented, alcohol free, art education, art festivals, audience participation, ball state university, blacksmith, brewery, ceramics and glass, children's events, classes, community development, couples, crafting workshops, crafts, design, downtown, drawing, educational performance, exhibitions, family events, fundraising, metal casting, metalworking, muncie arts and culture council, neighborhood, non-profit organizations, outdoor events, painting, parks, photography, plyspace, printmaking, projects, sculpture, seminars, stone crafts, textile crafts, volunteering, women, woodworking, workshops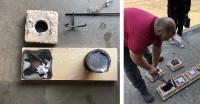 Join PlySpace Resident Fellow, Dave Rowe, for an afternoon of aluminum casting demonstrations, with beer and bratwurst, at Madjax! Minors and supervised children are welcome.
Dave will demonstrate the aluminum casting process using his custom foundry, built during his time at the PlySpace residency this summer. The demonstration will be held at the Madjax outdoor patio adjacent to Guardian Brewery on Saturday, July 14th. The event will begin at 2:00 PM, with aluminum pours on the hour at 3:00, 4:00, and 5:00. This demonstration event is free and open to the public. For an additional fee of $10, interested audience members can make a small shape in clay which will be cast during the demonstration. All supplies will be provided, and participation is first-come-first-serve, with a limit of one casting per person until supplies run out. A selection of beer will be available through Guardian Brewery (21 and over), and Bratwurst will be available for purchase from Tastes Good on a Bun ($4 a Brat!).
Dave Rowe is a sculptor, educator, and fabricator. He is currently an Assistant Professor in Sculptural Practices at the University of Nevada Las Vegas and holds a BFA from the University of Illinois at Urbana- Champaign and an MFA from Indiana University Bloomington.
Learn more about Dave and his fellowship at PlySpace!
PlySpace is a program of Muncie Arts and Culture Council in partnership with the City of Muncie, Ball State University School of Art, and Sustainable Muncie Corporation. PlySpace is generously supported by the National Endowment for the Arts.