Balsam Range In Concert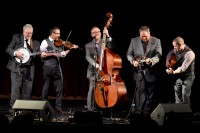 Bluegrass greats Balsam Range will perform in a FREE, all ages outdoor concert as part of the Muncie Three Trails Music Series. The concert will take place at Canan Commons in downtown Muncie, IN on Friday, July 13th at 7 PM. Flatland Harmony Experiment will open the show.
Balsam Range is one of the most decorated bluegrass groups of the last decade, receiving 8 nominations from the IBMA in 2017 alone, including winning the award for Album of the Year and being nominated for Entertainer of the Year, Instrumental Group of the Year, and Vocal Group of the Year.
Full details of this concert and the Three Trails series can be found at www.munciethreetrails.com.