Yarn/Craft Swap at Stitch 'n Bitch!
When
Sunday, February 11, 2018
5:00pm
Where
The Cup
1608 W. University Ave
What
Art - art and craft supplies, crafts, crochet, embroidery, food, knitting, macramé, needlepoint, patchwork, quilting, tapestries, textile crafts, the village, weaving, yarn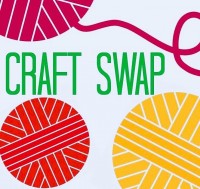 Never been before? Join us! :)
Sunday, Sunday, Sunday! This Sunday is extra special - we're having a SWAP! Everyone is welcome at Stitch 'n Bitch! Creativity and caffeine, that's our thing! We have early birds who start gathering at 3p at The Cup and those who don't arrive until late, so we come and go all afternoon. (The Swap begins at 5p - bring any yarn or craft supply to swap.) Most folks knit or crochet, some do other art, and it's all okay. I bring my mending, Brittaney and Brooklyn often sketch or paint, really any of your creative work is super welcome! Whoever arrives first, grab a beverage and please claim a table in the middle and we'll see y'all soon!
Bring all things crafty to swap! Heather will be bringing yarn, crochet hooks, sewing notions, paper cutouts, and a garbage bag filled with fabric scraps (legend of Zelda, Mario, adventure time, ren and stimpy...). Moth is bringing yarn, so is Susan. Feel free to post photos, or just show up with stuff to swap!
Swap begins around 5p at The Cup. If you get there early, please grab a table for us. Hope to see y'all there!