London: A Short History of the Greatest City in the Western World - Part 2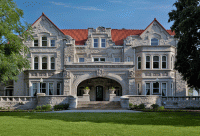 This non-credit, personal enrichment course meets six Wednesdays, March 21-April 25, 10-11:15 a.m.

London stands as a global metropolitan center and continues to be synonymous with important developments in international business, culture, and politics. This DVD series, produced by The Great Courses, features veteran lecturer and a renowned American scholar of British history, Professor Robert Bucholz. He will take you through London's history, from its birth as a Roman outpost in the 1st century C.E. to its current status as a 21st-century global village.

Topics Covered (two, 30-minute lectures per class):
March 21: London Rises Again—As an Imperial Capital; and Johnson's London—All That Life Can Afford
March 28: The Underside of 18th-Century London; and London Confronts Its Problem
April 4: Life in Dickens's London; and Two Windows into Victorian London
April 11: Questions Postponed and the Great War; London's Interwar Expansion and Diversions
April 18: The Blitz—The Greatest Target in the World; and Postwar London Returns to Life
April 25: The Varied Winds of Change; and Millennial London—How Do You Like It?
You may attend Part 2 without having attended Part 1.