Rodney Marsalis Philadelphia Big Brass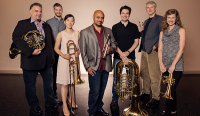 Many things set the Music for All Summer Symposium apart and one of those is the nightly concert series. Each evening features artists and groups presenting a variety of musical performance genres.
The Rodney Marsalis Philadelphia Big Brass (RMPBB) is composed of some of America's top brass musicians dedicated to bringing the joyous experience of great music to a wide range of audiences. The RMPBB is a family-owned and operated business that had its beginnings on the streets of New Orleans. On the advice of Ellis Marsalis, the group created a concert format that breaks the usual barriers between genres and strives to create a connection between the audience and performers.
TICKETS: $15, order online at camp.musicforall.org/concerts