Flor De Toloache, presented by the Muncie Three Trails Music Series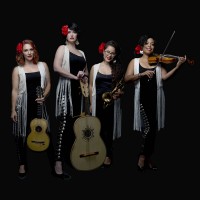 Latin Grammy nominees Flor De Toloache will be performing a FREE show as part of the 2017 Muncie Three Trails Music Series at Canan Commons on Saturday, August 26. Flor De Toloache, an all-female Mariachi band, are pioneers in updating Mariachi music for contemporary audiences. They have performed on renowned stages throughout the U.S. and Europe, and have had their performances praised by Rolling Stone, New York Times, Wall Street Journal, GQ, and the New Yorker. Full information can be found at www.munciethreetrails.com.
Michael Isla, Latin classical guiatrist, will open the show.