Conservation Crafting: Honeysuckle Earrings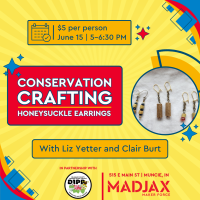 Learn all about invasive species Asian Bush honeysuckle. This woody plant has hollow stems, making it great for bead making! Make your own earrings, using a mix of honeysuckle beads and glass and plastic beads.
Instructors: Liz Yetter and Clair Burt
Dates: Thursday, June 15 | 5–6:30 pm
Recommended ages: 13 through adult
Cost: $5
Scholarships are available to any individuals or families with a demonstrated need. Email Kyra Zylstra, Director of Initiatives and Partnerships, at kyra@madjax.org.
We have gift certificates available! Give the gift of a fun learning experience at Madjax to a friend or loved one. Click here to purchase a gift certificate.