The Delvon Lamarr Organ Trio!
When
Saturday, September 9, 2023
7pm
Where
Canan Commons
500 S. Walnut St
What
Music non-profit organizations, festivals, music festivals, concerts, free concerts, outdoor concerts, jazz, soul jazz, soul music, electronic organ, downtown, ball state university, muncie arts and culture council, all-ages concerts, outdoor events, dwntwn, beer garden, muncie three trails, drinks, parks, nightlife, community development, community enhancement projects, muncie parks department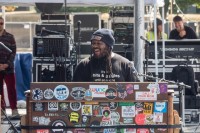 The Delvon Lamarr Organ Trio LIVE at the 2023 Muncie Three Trails Music Series!
Please join us on Saturday, September 9th at 7:00pm, at Canan Commons in Downtown Muncie, Indiana for our Summer of FREE CONCERTS with The Delvon Lamarr Organ Trio and special guest opener Ball State University Jazz Ensembles!
Soul-jazz groove-machine the Delvon Lamarr Organ Trio (DLO3) never would have happened without years and years of crummy gigs and Delvon's staunchly supportive wife, Amy Novo. The story goes that Hammond B3 organist Delvon would regularly lug his 400-pound instrument from venue to venue, barely breaking even, to play other people's music, and Amy just got tired of it. She fiercely believed in Delvon's talents, and, eventually, she made an offer he couldn't refuse: If Delvon picked the musicians, she would take care of all the business surrounding the gigs.
The three-piece DL03 started in May, 2015, and since then has issued three #1 Billboard-charting albums, as well as a 45. The Seattle-based trio's music is best described as "feel good music." DLO3 conjures the smoky 1960s jazz and soul stylings of Jimmy Smith, Booker T. & The M.G.'s, The Meters, Dr. Lonnie Smith, and Charles Earland. Within DLO3's distinct jazz stew there are also dashes of Motown, Stax Records, blues, and cosmic Jimi Hendrix-style guitar. The band features Delvon Lamarr on the legendary Hammond B3 organ, with dynamo Jimmy James on guitar, and Julian MacDonough on drums.
Live, the band is telepathically musical, easing through improvisational ideas, grooves, and extended jams with silken swagger. Their exhilarating live performances also showcase the band's deep personal connections, with witty between-song repartee, song story vignettes, and unpredictably dynamic flights of in-the-moment musicality. The three-piece has quickly made a name for themselves, including a feature on Seattle's KEXP "Local Artist Spotlight"; a live performance at Upstream Music Festival which has garnered over 7 million views; and numerous national and international tours and performances. The band's live connection also carries over into the studio and the band's compositional approach, as much of the band's recorded repertoire is written on the spot during soundchecks, on the bandstand, or while in the studio.
Besides prodigious talent and a rare chemistry, a constant ingredient in DLO3's success has been manager/den mother Amy Novo, who heads up Novo Productions LLC. Amy is affectionately referred to as "Shortcake" by the band, and has been called "Mafia" by some industry professionals, resulting in the modified nickname, "Shortcake Mafia." Years ago, Amy would hear Delvon's fears about being known as the local legend who never went anywhere. Today, through Amy's tireless work ethic, and Delvon's bottomless talent, the power couple have taken the Delvon Lamarr Organ Trio beyond their wildest dreams. "I used to listen to the old jazz greats and think about their European travels. For years, I thought it would never happen for me, and then Miss Novo made it happen. Without her we would still be in the basement," Delvon marvels. Amy adds: "I'm not a salesperson—I can only do something I believe in—but Delvon is so talented, and I am passionate about keeping his music alive. I fight for the artists I work with."
Visit The Delvon Lamarr Organ Trio here:
https://delvonlamarrorgantrio.com
Presented by DeFur Voran, THANK YOU to our Sponsors!
The primary mission of the Muncie Three Trails Music Series is to bring critically acclaimed, national recording artists to perform at Canan Commons, Muncie's newest outdoor performance venue, located in the heart of Downtown. All concerts are free to the public. Our second mission is to promote the many recreational, artistic, and cultural attractions located along, or in close proximity to, Canan Commons and Muncie's popular "Three Trails" -- The White River Greenway, The Cardinal Greenway, and The Muncie Arts and Culture Trail. We hope that the combination of outstanding concerts and Muncie's attractions will provide both local citizens and visitors from throughout the region and state with a full day of fun and music.
Explore The Trails, Enjoy The Music!
Please visit our website to learn much more about our 2023 Muncie Three Trails Music Series: