Muncie Makers Market at First Thursday
When
Thursday, October 5, 2023
5pm
Where
Corner of Walnut & Adams Streets
On the sidewalks!
Corner of Walnut & Adams - Downtown Muncie.
What
General Events art festivals, ceramics and glass, textile crafts, knitting, crochet, leatherwork, mixed media, paper crafts, jewelry, downtown, health, gardening, food and drink, outdoor events, shopping, empowerment, dwntwn, neighborhood, garden crafts, cupcakes, cookies, muncie makers market, farmers market, growers and makers, fresh food, crafts, community development, plants, local merchandise, community enhancement projects, entrepreneurship, vegetables, farms, gardens, farm foods, canning, first thursday
Series
Muncie Makers Market at First Thursday!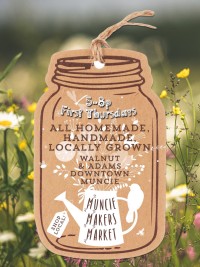 First Thursdays with the Muncie Makers Market are coming soon! 🌱 #ShopSmall #BuyLocal
The Muncie Makers Market is happy to be a part of Muncie's First Thursday community events in Downtown Muncie! 🍃 This is a popular local monthly tradition, going many years back, with all sorts of vendors, artists, and entertainers set up throughout Downtown Muncie. It's a casual, relaxed evening outdoors, and we help to bring folks to the area. We are looking forward to a great turn out!
Assuming good weather, the Muncie Makers Market will set up every month on the sidewalks by the corner of Walnut and Adams Streets for the 2023 First Thursday gatherings, and be open ‪to the public from 5-8p‬. 🌿 The Muncie Makers Market is a registered farmers market featuring handmade creations, homemade foods, and locally grown produce! We hope you come see us and enjoy a lovely evening with your community!
All Vendors must register in advance - watch for the "Call for Vendors" posts in our Facebook group for all event details and to sign up to sell with us, thank you! 💚