The First Step Film Screening and Local Panel Discussion
When
Saturday, March 18, 2023
6pm to 9pm
Where
Muncie Civic Theatre
Main Stage
216 E. Main St. Muncie, IN 47305
What
Theater documentary, downtown, empowerment, educational performance, audience participation, panel, the facing project, kelsey timmerman, j.r. jamison, film showing, discussion, van jones, criminal justice reform, addiction recovery, meridian hill pictures, the kramer brothers, lance kramer, brandon kramer
Cost
$10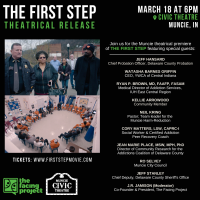 Ahead of its nationwide theatrical release, Muncie will be one of 20 cities (and the only in Indiana) to early screen The First Step, a 90-minute documentary film that follows political commentator Van Jones and the bipartisan coalition who fought to pass landmark criminal justice reform in 2018 (The First Step Act), which has allowed more than 20,000 people to come home from federal prisons. The first screening opened in late-February in New York City and will conclude in May in Virginia.
Immediately following the Muncie screening on March 18th at Muncie Civic Theatre, The Facing Project co-founder and president, J.R. Jamison, will moderate an interactive local panel discussion on the themes of the film that include addiction, recovery, reentry, and criminal justice reform.
Local panelists will include:
Jeff Hansard, Chief Probation Officer, Delaware County Probation;
WaTasha Barnes Griffin, CEO, YWCA of Central Indiana;
Dr. Ryan P. Brown, Medical Director of Addiction Services, IU Health East-Central Region;
Kellie Arrowood, Community Member;
Neil Kring, Pastor and Team Leader, Muncie Harm-Reduction;
Sara Renee, Director of Muncie Folk and Team Leader, Muncie Harm-Reduction;
Cory Matters, Social Worker, Clinical Therapist, and Certified Addiction Peer Recovery Coach;
Dr. Jean Marie Place, Director of Community Research, Addictions Coalition of Delaware County;
Ro Selvey, Muncie City Council;
Jeff Stanley, Chief Deputy, Delaware County Sheriff's Office.
Tickets for the screening are $10 and available online or at Muncie Civic Theatre's box office: https://app.arts-people.com/index.php?show=167410.
There are a limited number of reserved seats for those who need financial assistance. Please contact J.R. Jamison (jr@facingproject.com) for details.
More about the film can be found at: https://www.firststepfilm.com/.