Creative Challenge Zine Making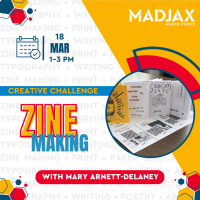 Are you needing a creative boost? This two-phase workshop will lead you on a journey of creativity with some maker-inspired artistic challenges to help boost your creativity and teach you the techniques of making a one-sheet "Zine" to feature and promote your creations.
Participants will explore a variety of mediums including collage, paint, and print.
Instructor: Mary Arnett-Delaney
Recommended ages: 13 through adult
Ages 6–12 may accompany a registered adult