Astronomy Slam
When
Saturday, November 5, 2022
6:30pm
Where
Charles W. Brown Planetarium
2111 W Riverside Ave
What
General Events educational demonstrations, planetarium, science, audience participation, educational performance, family events, competition, ball state university, children's events
Cost
Tickets are $4 per person, and registration is required.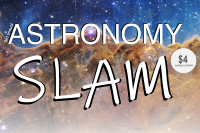 The Charles W. Brown Planetarium presents the 3rd Annual Astronomy SLAM! Just 10 minutes a person – that is all the time Ball State students will get to share a piece of our universe with you in the Brown Planetarium. During this event, students will use planetarium visuals to help them present in the most creative way they can while competing for the title of Astronomy Slam Champion! This year's presenters are: Caleb Whitcomb, Madeline Shepley, Kyree Standifer, and Kenya Cole.
Tickets are $4 per person, and registration is required. Purchase tickets online only at https://commerce.cashnet.com/BALL_EMS114