Flor De Toloache at the Muncie Three Trails Music Series
When
Saturday, August 27, 2022
7pm
Where
Canan Commons
500 S. Walnut St
What
Music concerts, free concerts, outdoor concerts, downtown, ball state university, muncie arts and culture council, all-ages concerts, outdoor events, sharing economy, dwntwn, neighborhood, muncie three trails, parks, nightlife, community development, mariachi, community enhancement projects, muncie parks department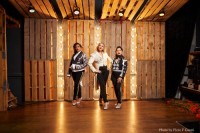 The Muncie Three Trails Music Series is thrilled to present the 9th season in which the series presents critically acclaimed national recording artists in four FREE concerts at Canan Commons in Downtown Muncie. All shows begin at 7 PM and are all ages. And this season, we will also be presenting a special "Bonus" concert at Cornerstone Center for the Arts. Complete information on the series and all artists, including samples of their music, can be found at www.munciethreetrails.com.
2021 Grammy and Latin GRAMMYs nominees Flor de Toloache, an all-female mariachi ensemble, will return to the Canan Commons stage for our third concert of the year on Saturday, August 27th. Flor De Toloache, which translates as "deadly flower" and also refers to a main ingredient in traditional love potions, was founded in 2008 and is lead by singers Mireya Ramos & Shae Fiol. They weave a variety of influences (e.g., salsa, bactata, cumbia, gypsy, Latin jazz, pop, hip-hop, soul) into their unique sound, giving them an edgy, versatile and fresh take on traditional Mexican music. They perform original songs, new arrangements of classic Mariachi tunes, as well as an eclectic selection of covers that can include songs by artists such as Adele and Erykah Badu. Pavel & Direct Contact will open the show. This concert is sponsored by Ball State University.
The Muncie Three Trails Music Series is a non-profit partnership between Muncie Downtown Development Partnership, Muncie Arts and Culture Council, and Rick Zeigler, series founder and organizer. The mission of the series is to bring critically acclaimed, national recording artists to perform at Canan Commons, Muncie's premier outdoor performance venue, located in the heart of Downtown Muncie. A second mission is to promote the many recreational, artistic, and cultural attractions located along, or in close proximity to, Canan Commons and Muncie's popular "Three Trails" -- The White River Greenway, Cardinal Greenway, and Muncie Arts and Culture Trail. We hope attendees will heed our slogan, "Explore the Trails, Enjoy the Music".