The Steampunk Consortium Halloween Ball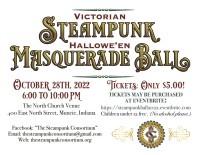 WE ARE SOLD OUT
But a waiting list is available, in case some on cancels their ticket and it becomes available for purchase.
You are cordially invited to a Steampunk Masquerade Ball!
October 28, 2022
6:00 pm – 10:00 pm
The North Church Venue (http://thenorthchurchvenue.com)
400 East North Street, Muncie, Indiana
Cost: $5 (https://steampunkball2022.eventbrite.com)
Come join the Steampunk Consortium for an evening of Music and Festivities at The North Church Venue (A Wedding and Events Venue) in Muncie, Indiana. We've reserved the facility for our Steampunk, Goth, Diesel-punk, and Wild Wild West friends.
The Fabulous Funcie Femmes shall also be joining us providing a Family Friendly Burlesque Demonstration beginning at 9pm.
~~~
Photographer - Nikki Harker at Timeless Mementos
https://www.facebook.com/TimelessMemento
~~~
Catering will be provided by Sea Salt & Cinnamon (https://www.seasaltandcinnamon.com)
Great and many thanks to Sea Salt & Cinnamon for working with us.
~~~
(We request no alcohol be presented and distributed.)
All ages are welcome. Children must be accompanied by a responsible adult. Please be respectful of the North Church venue guidelines.
~~~
For Tickets: https://steampunkball2022.eventbrite.com
PLEASE BE SURE TO PRINT YOUR TICKET AND BRING THEM WITH YOU