Muncie Mystery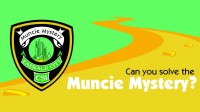 MUNCIE–Do you have the brains, heart and courage to solve the Muncie Mystery?
A crime –(pretend crime, of course)–has been committed and we need YOUR help finding the culprit and the "weapon" used.
Join fellow citizen CSI: Emerald City investigators for the second Muncie Mystery during First Thursday on May 6
in DWNTWN Muncie.
According to reports, a break-in has occurred at the Wizard
of Oz's secret Muncie laboratory in the "Emerald City" neighborhood. The suspect, despite several warnings to pay no attention to that man behind the
curtain, entered the restricted area. The Wizard confronted the suspect and suffered a blow to his noggin but has
not been able to identify the perpetrator.
Six primary suspects -Wicked Witch of West, Dorothy, Scarecrow, Lion, Glinda the Good Witch and The Mayor of Munchkinland-were spotted near the scene at the time of the crime. And, lucky for our eagle-eyed investigators, several pieces of evidence were left behind.
Between 5:00 and 6:30 p.m. Thursday, May 6, investigators of all ages are invited to visit 10 participating downtown businesses. At each location, you will have the chance to question suspects about their whereabouts during the time of the break in and look at crime lab reports on several possible "weapons."
Participating businesses are YWCA, Aspect 6, Kirk's Bike Shop, Inland Design, Vahalla(21+), IVY Tech (Fisher Building), Twin Archer, Mama Bonds and The Fickle Peach (21+).
You can download a Crime Tracker –with map -now at www.muncieneighborhoods.org/munciemystery or downtownmuncie.org.
You may also pick one up during First Thursday at Canan Commons or Dave's Alley.
Crime Trackers must be turned in at Canan Commons by 6:30 p.m. The guilty party and facts about the case will be revealed at Canan Commons at 7pm.
Investigators will also be able to enjoy tethered hot air balloon "rides" and meet a Horse of a Different Color and the Runway for Rescues animals at Canan Commons during the event. The hot air balloon will be set up for photo opportunities at 5 and begin
tethered rides at 6:45 p.m.
Investigators who correctly identify the criminal and weapon will be entered into a drawing for great prizes, including:
An Overnight Stay at the Courtyard Marriott
2 Family Pack Tickets to see Muncie Civic Theatre's production of The Wizard of Oz at Canan Commons
Annual Family Membership to the Muncie Children's Museum
Muncie Graphic Pillow from Muncie Map Co.
Bruce Pizza and $10 drink certificate from Vallhalla
4 tickets to Sept. 2 BSU football season opener game with BSU vs. Western Illinois
$25 Gift Certificate to Twin Archer
$25 Gift Certificate to The Caffinery A Tethered Hot Air Balloon Ride at the event.
You must be present to win.
Participants are asked to follow posted mask requirements inside downtown businesses
and it is suggested masks be worn outside when in large crowds.
Muncie Mystery is presented by Muncie Downtown Development, Muncie, Muncie Civic
Theatre, Indiana Public Radio, Ball State PBS, Ball State Office of Community
Engagement and Muncie Neighborhoods.