Red-tail's Spring Tree Planting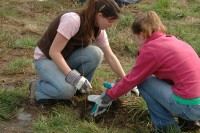 Roll up your sleeves, grab a shovel, and help us plant a forest! Join Red-tail Land Conservancy, Plant Roots Foundation, and Heintzelman Hardwood Floors in restoring a dormant field back into a vibrant woodland on Sat, April 17 from 10am-12pm at Reber Woods in Muncie.
At this family-friendly event, you will help beautify our community and create a habitat where threatened wildlife can thrive. Be prepared to get a little muddy while having a lot of fun!
REGISTRATION IS REQUIRED.
Parking, what to wear, what to bring, and registration can be found at:
www.ForTheLand.org/Events