NYE Mask-erade (Apocalypse 2020!)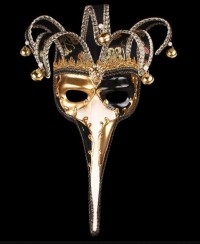 Apocalypse 2020
Its been a strange year. Lets sacrifice these last 365 by a night of intense debauchery... and mockery of course. Mask Required. Like a proper full face mask a la Halloween/Apocalypse/Plaque Doctor style. We will be following ALL the rules to the T, burning lots of incense and chasing the taste of this year down with champagne and fernet-branca. You can order what you want but you know... champagne goes with NYE and Fernet is a great digestif! We will have cheap drinks available so dont be shy, we need all the help we can get to weather another few months of shit weather, half a city gone or inaide, and a pandemic to boot!
21+ Only Due To Limited Capacity
$10 at the Door.
We Promise Cheap Drinks and A Toast At Midnight!!!