Light Up DWNTWN + Elf Scavenger Hunt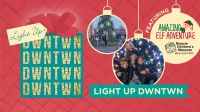 LIGHT UP DWNTWN
Spread the Christmas cheer with galleries, restaurants, retailers, and neighbors throughout December!
Every Thursday, Friday, Saturday, and Sunday, there will be music & light shows at the top of every hour from 6:00 pm to 9:00 pm! Physical distancing & face masks will be required.
ELF SCAVENGER HUNT
Some of Santa's elves have arrived in Muncie!
Throughout the month of December, 80 elves will be working with DWNTWN businesses to prepare for Christmas. If you look closely at storefront windows, you might just spot them!
Can you find at least 50 elves? Fill in your Elf Tracker (coming soon for download at downtownmuncie.org/lightupdwntwn or to pick up from downtown business locations) with at least 50 of the possible 80 elves' names and numbers and be entered to win one of five $100 cash prizes!
Return your completed Elf Tracker by:
Mailing physical copies to Downtown Muncie, 120 W Charles St, Muncie, IN 47305
Emailing the fillable PDF to info@downtownmuncie.org
Completed Elf Trackers must be received by January 3, 2021. Cash prize winners will be drawn and announced via Downtown Muncie Facebook Live at noon on January 6, 2021.
This scavenger hunt is brought to you in partnership with Muncie Children's Museum's Amazing Elf Adventure.