April's Virtual First Thursday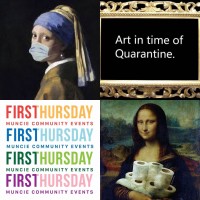 Announcing April's Virtual First Thursday!
Due to the COVID-19 crisis, there will not be First Thursday events held downtown for April. Instead, we will hold a Virtual First Thursday in which we will post a photo gallery on our Facebook page that features work by local artists and venues! If you would like to submit work for Virtual First Thursday, please email up to 3 photos of your art as well as caption information to Dr. Natalie Phillips at nephillips@bsu.edu or send a private message to First Thursday's Facebook page at (www.facebook.com/FirstThursdayMuncie). You may include pricing and contact information for your work as well. Please submit your photos by 5pm on Tuesday, March 30th to be included in the Virtual First Thursday gallery.
Please help spread the word and we hope everyone in Muncie is staying safe, healthy, and continuing to make art from home!
Virtual First Thursday image courtesy of artist Debra Gindhart. Check out her work on Instagram at instagram.com/artgreen64 or in her 2nd floor Madjax studio (once Madjax re-opens).