Muncie Steampunk Society April Salon
When
Saturday, April 4, 2020
7:30pm
Where
Books & Brews
2100 W. White River Blvd. B Muncie, IN 47303
What
General Events steampunk, social club, non-profit organizations, meetings, lgbtq, costuming, cosplay, beer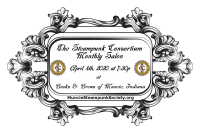 Cancelled!!! Due to Virus
Coming up April 4th, 2020 is our Next Steampunk Salon.
We will be meeting at Books & Brews of Muncie as per our usual.
Please plan to join us at 7:30p for a few drinks, some conversation and to get to know one another a little better.
Please keep in mind that the object of our conversation is to entertain and amuse; the social gathering, therefore, should not be made the arena of dispute.
We look forward to seeing you at the salon.
https://www.facebook.com/events/898175740602280/