The Fall 2020 Muncie YART on Facebook
When
Thursday, October 1, 2020
5pm
Where
Virtual Event
https://www.facebook.com/Muncie-YART-156725934394407
What
Art ceramics and glass, ceramics, glasswork, polymer clay, pottery, stained glass, digital arts, drawing, exhibitions, arts walk, first thursday, garden crafts, flower crafts, greenhouse, jewelry, beadmaking, macramé jewelry, metalworking, happenings, found object, illustration, masks, mixed media, mosaic, public art, painting, acrylic painting, airbrush, aerosol, coffee & paints, egg tempera, enamel paint, encaustic painting, face painting, glass painting, gouache, landscape painting, oil painting, portrait painting, spraypaint, watercolor, paper crafts, art trading cards, collage, decoupage, origami, papercraft, photography, lithography, screenprinting, woodcut, sculpture, textile crafts, canvas, crochet, embroidery, knitting, macramé, needlepoint, patchwork, quilting, tapestries, tie-dye, weaving, pop art, children's art, avant-garde, futuristic, gothic art, nature, woodworking, wood carving, wood burning, community development, community enhancement projects, empowerment, neighborhood, outreach, food, downtown, parks, outdoor events, festivals, art festivals, shopping, sale, local merchandise, crafts, nightlife, concerts, yart, circus arts, singing
Series
YART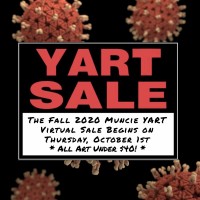 YART is a Yard Sale for Art held on the First Thursday of every May and October! All Art under $40! All Artists handle their sales with you directly!
The pandemic has challenged everyone on Earth, and most recently, my related challenge has been as long-time Director of YART, Muncie's Yard Sale for Art, coming up - and going fully online - on Thursday, October 1st. The Fall 2020 Muncie YART will happen! All the talented YART Artists will have their work for sale in a special Facebook group I've created. We are keeping that yard sale vibe going by all Art being priced under $40 and all Artists handling their own sales. The last Fall YART showcased over 150 Artists! YART is my giant twice-a-year volunteer gift to Muncie. I never charge any Artist to participate; and I have no staff and no budget. I heartily invite the entire community to come buy some Art at YART on October's First Thursday at the following Facebook group: https://www.facebook.com/groups/4827417053950079
ARTISTS: Sign up to sell at YART for FREE! Join us at Muncie YART on Facebook!