Cuplets @ Facebook
When
Sunday, July 26, 2020
6pm to 8pm
Where
Facebook
What
General Events writing, theater, the village, stand-up comedy, spoken word, speakers, reading, public art, pop art, political spoken word, poetry reading, poetry, performance art, outreach, nightlife, muncie arts and culture council, midwest writers workshop, meetings, literature, improvisational acting, happenings, haiku, food, exhibitions, empowerment, educational theater, drama, discussion, community enhancement projects, community development, comedy, authors, audience participation, adult oriented, acting
Series
Cuplets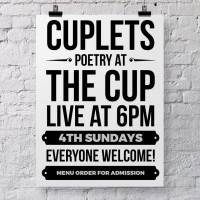 * CURRENTLY ONLINE DUE TO THE CORONAVIRUS PANDEMIC! *

Here ya go, Wordsmiths, coming on the 4th SUNDAY of every month to your local Muncie:
Cuplets - Live Poetry at The Cup!
On every 4th Sunday, from 6-8p, join us in celebrating you and your words at Cuplets, Live Poetry at The Cup!
This free monthly event for open mic live poetry reading at The Cup will pair flow with joe, rhythm and brews, beats and beans, and result in many a steamed stanza. There is only one rule for Cuplets: Buy something from The Cup, each and every one of you, no exceptions. They've got espresso, coffee, chai, tea, soda, juice, and yummy food too, from bagels to sandwiches and more. That's right, support your scene with a few bucks to the venue. Let's keep them busy!
#BYOC2 = Build Your Own Communy + Buy Your Own Coffee!
WE CAN'T WAIT TO HEAR YOUR POETRY!
Cuplets is not curated, everyone is welcome to read. I know y'all are nice and will match the length of your reading to the attendance level so everyone has a chance to read. Read new work or old, rhyme or don't. If it's poetry to you, it's poetry at Cuplets!
Many thanks to the owner of The Cup, Martin George, for inviting me to create this monthly event! And a big ol' thank you to Lucian Cruor for the poetry/café word pairings above!
#Cuplets
#OpenMic
#Poetry
#SpokenWord
#TheCup
#CafeCulture
#HeyMuncie
#Funcie
#GoDoMuncie
#HoosierBeauty
#MuncieArts
#BetterTogether
#ExperienceMuncie