Tuba Tunes - It's All You Want for Christmas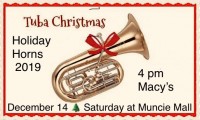 This is BIG. Tuba-sized Big!
Christmas Fun for the whole family - FREE
TubaChristmas is a tradition shared in countries the world over. It's when tuba (& other low brass) players get together to create and share Christmas tunes with the holiday crowd - wherever they are.
In Muncie, this Christmas-only group is sponsored yearly by America's Hometown Band musicians. Don't miss out!