Holiday in Bloom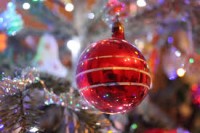 Annual Holiday in Bloom Open House
December 7, 2019 6:00-9:00 p.m.
Join us for the free annual Holiday in Bloom Open House at the Dr. Joe and Alice Rinard Orchid Greenhouse at Ball State University. Beautiful Holiday lights, musical performances by Sedoctave BSU A Cappella Group and Hillcroft Handbell Choir, hot cocoa, marshmallows, refreshments and a children's activity. Fun for the whole family while you enjoy the beautiful orchids in the warm tropical environment of the orchid house.
Stroll next door to the Marilyn K. Glick Center for Glass for glass blowing demonstrations, follow the luminaria to the David Owsley Museum of Art, and the Charles W. Brown Planetarium. Then ride the MITS Trolley to Minnetrista for the Enchanted Luminaria Walk. Join us for a fun holiday evening!
Located in Christy Woods on W. University Ave. across from IU-Ball Memorial Hospital
Contact: Cheryl LeBlanc (285-8839 or cleblanc@bsu.edu) for information, to help volunteer, or donate items in advance of event.
The Holiday in Bloom event is organized by the Friends of the Rinard Orchid Greenhouse.