WIPB's Be My Neighbor Day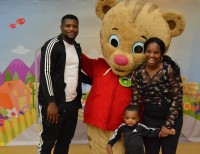 Be My Neighbor Day Muncie is 5 YEARS OLD! Come and celebrate with us 1-4 p.m. Saturday, Sept. 7, at Canan Commons in downtown Muncie!
Meet DANIEL TIGER at this free family event; dance along to music by Ruditoonz, and visit our great neighbors from arts organizations, community centers, and other awesome non-profit groups.
Based on the animated PBS KIDS show DANIEL TIGER'S NEIGHBORHOOD, and with a nod to MISTER ROGERS' NEIGHBORHOOD, this event focuses on the importance of being neighborly.
If your group or non-profit organization would like to take part in Be My Neighbor Day, contact Community Engagement Manager Michelle Kinsey at mkinsey@bsu.edu or (765) 285-5887.
BE MY NEIGHBOR DAY is presented by Mutual Bank. Major support provided by LifeStream Services, The Community Foundation of Muncie and Delaware County, Community Hospital Anderson and Hudson Printing. Additional support from Leland C. Wilhoite DDS, PC.