Art in the Park & Neighborhood Rummage
When
Saturday, July 13, 2019
9:00am to 3:00pm
Where
Heekin Park
802 E. Memorial Drive
What
Art - children's events, drawing, educational demonstrations, family events, food, free concerts, muncie arts and culture council, muncie parks department, outdoor concerts, painting, street festivals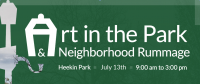 Muncie Parks and Recreation hosts their third annual Art in the Park & Neighborhood Rummage in Heekin Park on Saturday, July 13th. This event features a wide variety of vendors and plenty of fun including a stage with live music, staple summer-time food, a community rummage sale, and plenty of arts demonstrations and activities for the entire family!

Muncie Arts and Culture Council is honored to count this Heekin Park festival as a "10 for 10 MACCtivity", a series of events highlighted to recognize MACC's 10th anniversary of celebrating and supporting arts & culture in Muncie!

The Muncie Parks Department is offering Free Booth Space to any and all arts or rummage sale vendors interested in participating. Tables will be provided and set-up begins at 8:00 am. Advance notice of your plans to participate is appreciated and helps the team plan for a successful event for everyone. Please contact the Muncie Parks Department or the MACC representative to reserve your table or for more information!

Muncie Parks Department
Phone: 765- 747-4858
Email: pmills@cityofmuncie.com

MACC Representative Bob Hartley
Phone: 765-760-4979
Email: bobhartley64@yahoo.com

Featuring historical statues and monuments, picnic areas, outdoor events, and playgrounds, Heekin Park is the southern-most Muncie Cultural Zone. The current MACC Cultural Trail offers bike traffic to the park by way of Hackley Street, and Heekin Park is home to several non-profit organizations. Muncie Arts and Culture Council is proud to help promote Arts + Culture activities in the Heekin Park Cultural Zone.