Foodie Friday with a Side of Jazz - America's Hometown Band
When
Friday, June 14, 2019
12:00pm
Where
Canan Commons
600 S. Walnut St, Muncie
What
Music - america's hometown band, downtown, dwntwn, family events, outdoor concerts, outdoor events, saxophone, trombone, trumpet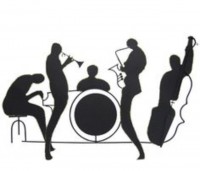 Jazz Up Your Downtown Lunch Break
The Big Band/Jazz musicians from America's Hometown Band are your very special 'lunch combo' for Foodie Friday at high noon!
Plus - crooner Clay Arnett to add a little extra spice.
Be there when the trumpets, trombones, saxes, and rhythm players come out to play. It's lively, lovely, and loud - just like summer should be!!