Transplanted - An Exhibition of Artwork by Ben Fulcher and Emily Thornton
When
Thursday, May 2, 2019
12:00pm to 5:00pm
Where
PlySpace Gallery
608 E Main Street, Muncie, IN 47305
What
Art - animation, art gallery, digital arts, downtown, dwntwn, first thursday, muncie arts and culture council, stop-motion animation, video games
Series
Transplanted - An Exhibition of Artwork by Ben Fulcher and Emily Thornton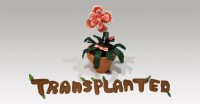 Muncie Arts and Culture Council is pleased to celebrate Brink of Summer ArtsWalk on Thursday, May 2, 2019 with an opening reception for Transplanted, a stop-motion animation video game by artists Emily Thornton and Ben Fulcher. The artists will speak about their work at 7:00 PM and will be available to answer questions and share insights about the project and their process with guests. Light refreshments will be served and the public is invited to attend. The interactive exhibition of their work will be on view from April 30 to May 3, 2019 12:00 - 5:00 pm in the PlySpace Gallery at 608 East Main Street in downtown Muncie.
Developed collaboratively by Fulcher and Thornton, Transplanted is a stop-motion video game that explores the benefits of taking care of another living thing and how that connection can change your life. The narrative of the game is centered around a woman named Elaine who has just graduated college and no longer has a goal or focus for her life. The objective of the game is to take care of a plant that is delivered to her house, an act which serves as a catalyst for change in the character's life. By taking care of the plant, Elaine begins a transformation from lethargic depression to sentimental optimism through taking care of herself. The game plays as a quick, meditative passage through a character's personal landscape. As each player slowly begins unpacking Elaine's personal belongings, they are invited into the sentimental values of often innocuous items. The game is a meditation on personal motivation, and overcoming seemingly monumental tasks, one step at a time.
In March, Transplanted was selected as a finalist for the Big Indie Pitch competition at the 2019 Game Developers Conference in San Francisco, California, where Fulcher and Thornton shared their project and received industry feedback alongside other indie developers. Both artists will receive their Master of Fine Arts in Animation from Ball State University's School of Art this spring. This exhibition of their MFA thesis work offers visitors a unique opportunity to interact with Transplanted and the creative process behind it through individual gaming stations, documents of the digital rendering process, and the display of physical elements from the game's stop-motion design.
Ben Fulcher received his Bachelors of Fine Arts with a focus in Drawing from Clemson University. He is currently an Master of Fine Arts candidate in Animation at Ball State University School of Art. He spent time teaching English in China and Taiwan. Fulcher was awarded the Aspire Grant from Ball State University in 2018 and 2019. His work has been included in the Independent Talents International Film Festival in Bloomington, IN; the Life Screenings International Film Festival in Clermont, FL; and the Weird Wednesday 0711—Monthly in Stuttgart, Germany.
Emily Thornton received her Bachelors of Science from Huntington University, and is currently a Master of Fine Arts candidate in Animation at Ball State University School of Art.. Her work has been accepted into RAW Natural Born Artist and published in The Broken Plate, and Huntington Chapter Ictus. Thornton is also a recipient of a silver award from the American Advertising Federation of Fort Wayne.
The PlySpace Gallery is an exhibition and project space programmed by the Muncie Arts & Culture Council to support the activities of the PlySpace Residency as well as the objectives of emerging, experimental, and underrepresented artists and art forms. The PlySpace Gallery will be open for additional viewing hours on:
Tuesday, April 30th // 12:00 - 5:00 PM
Wednesday, May 1st // 12:00 - 5:00 PM
Thursday, May 2nd // 12:00 - 8:00 PM
Friday, May 3rd // 12:00 - 5:00 PM
Muncie Arts and Culture Council and Ball State University School of Art welcome the public to the PlySpace Gallery for this one-of-a-kind exhibition of stop-motion animation and game development during the Brink of Summer ArtsWalk event for First Thursday in downtown Muncie. The PlySpace Gallery is located at 608 East Main Street, and parking is immediately adjacent to the building. Please enter through the gallery door facing the parking lot. For more information, please email info@munciearts.org.