Movement in Nature An Art Exhibition by Kimberley True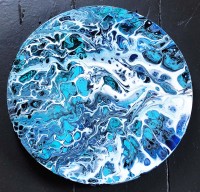 Join Cornerstone Center for Arts on Thursday, May 2 for the opening reception of Movement in Nature, an art exhibition by Kimberley True. The reception will take place in the Judith Barnes Memorial Gallery on the second floor of Cornerstone from 5 to 7 p.m. in conjunction with May's First Thursday events.
The world around us is ever-evolving, always in motion and yet quiet and still. It is enveloping and frightening and awe-inspiring. As above in the clouds and stars, so below in the deepest oceans, this is where Kimberley True finds her greatest source of inspiration.
True's art is deeply rooted in her fascination with movement in nature. She has created paintings that flow and breathe across the canvas. Her color schemes are influenced from far-off galaxies, sunsets over Midwestern fields, and the crashing waves along our ocean's shores.
Kimberley True is a Muncie-native and only daughter to local artists Randy and Debbie True. Her first loves were reading and writing however art was a close third. The messier the medium, the better. After charcoal, pastels, and watercolor, Kim settled on acrylics as her preferred modus operandi.
Movement in Nature will be on display and open to the public in the Judith Barnes Memorial Gallery throughout the month of May.
For more information about the exhibition call Cornerstone's Department of Education & Communication at 765-281- 9503, ext. 23 or visit cornerstonearts.org.