PlySpace Porch Party
When
Friday, April 12, 2019
4:00pm to 8:00pm
Where
PlySpace
608 E Main St.
What
General Events - downtown, drawing, dwntwn, exhibitions, family events, muncie arts and culture council, neighborhood, paper crafts, printmaking, sculpture, woodworking, workshops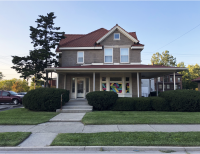 It's been a long winter, but we are ready to warm up on Friday, April 12th from 4-8 PM at the PlySpace Porch Party!

All ages are invited to learn about Zine-Making with Siena Hancock, Watch a Paste-Paper Demo with Face Me Por Favor artists Matt Litwin and Victoria Eidelsztein, and catch Nowhere To Be And All Day To Get There, the final exhibition for Kevin Titzer in the PlySpace Gallery!

It's a great time to visit the neighborhood as well! Check out Interrobang Wayzgoose, a regional festival of Book Arts at Tribune Showprint in Madjax Muncie on Friday, April 12th at 7PM, or check out Muncie Brewfest at the Cornerstone Center for the Arts on Saturday, April 13th.

Come and learn more about the PlySpace Artist Residency during this fun-filled evening of events and activities! All ages are welcome.

PlySpace is a program of Muncie Arts and Culture Council in partnership with the City of Muncie, Ball State University School of Art, and Sustainable Muncie Corporation. PlySpace is supported in part by an award from the National Endowment for the Arts.