Inspired by Orchids: Spring Gallery Event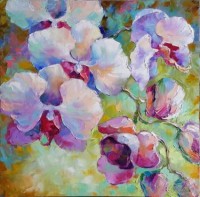 'Inspired by Orchids' is the newest exhibition opening at Ball State University's Dr. Joe and Alice Rinard Orchid Greenhouse. Featured works have been inspired by the tropical environment of the Rinard Orchid Greenhouse.
April 4 - 30, Rinard Orchid Greenhouse visitors can discover a selection of works of Ball State Art students and local artists whose works have been inspired by the variety of shapes, colors and textures in the greenhouse.
'Inspired by Orchids' is a compilation of works created by Ball State University drawing and painting students. Take a peek into the (local) tropics to enjoy these works of art.
The exhibit is free and open to the public.
An artists' reception will be held, Friday April 5, from 4 - 5 pm. Parking is available near Christy Woods on the Ball State University campus. No permit required on Saturdays. For questions, contact Cheryl LeBlanc or call 765-285-8839.